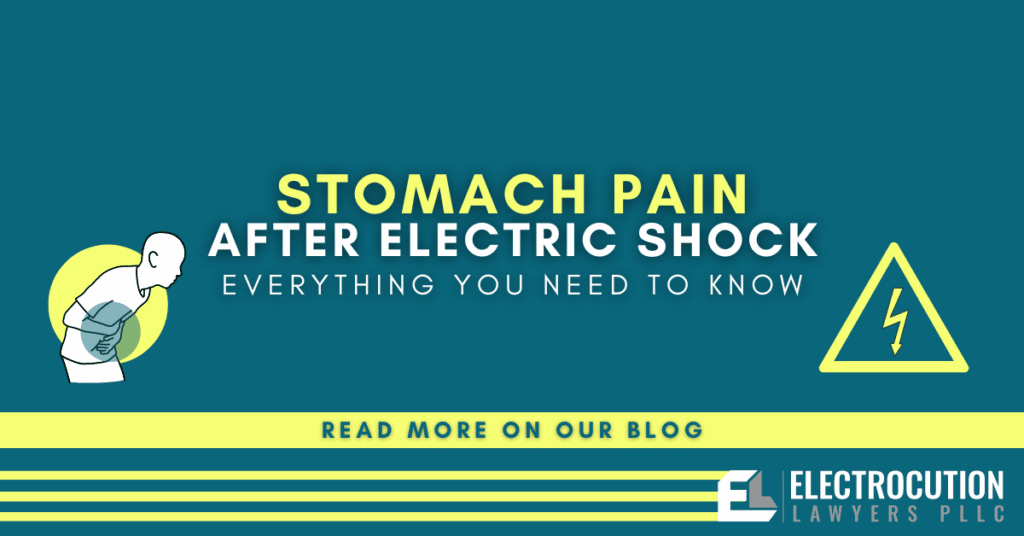 Stomach pain after electric shock may be a sign of serious injury to your internal organs. This may be both debilitating and potentially deadly. You should seek immediate medical attention. If you suffered electric shock due to another's negligence or carelessness, you may be entitled to compensation.
If you are suffering from an electrical injury, you can schedule a free, no-cost, no-obligation consultation with an experienced electrocution lawyer.
An attorney who specializes in electric shock injury and electrocution cases can help you and your family protect your legal rights, secure the medical care you need, and help you recover the best settlement possible in your case. An electrocution lawyer who has experience litigating cases involving electrical injuries will know how to identify all of the possible responsible parties who are liable for your injuries, parties that other personal injury lawyers often will miss.
Electrical shock injury cases involving stomach pain and possibly electrical-related injuries to internal organs are very serious and potentially deadly. These types of cases involving injury caused by electricity are also extremely different from any other type of personal injury case.
If you want to find out how much your electric shock settlement is worth, you can call us for free consultation with one of our experienced electrocution attorneys.
What is stomach pain after electric shock?
Stomach pain after electric shock is a potentially very serious condition because the pain may be a symptom of internal organ injuries caused by the electric shock. These injuries may include perforation of the small intestine or bowel. Other organs frequently affected are the colon, pancreas and liver.
Can I sue for stomach pain after electric shock?
You may be able to file a lawsuit to sue for pain and suffering compensation as well as other damages if you or a loved one has suffered stomach pain after electric shock. Your recovery may include payment of your medical bills and lost wages if your injuries have disabled you from working.
What if my stomach pain was caused by an electric shock at work?
If an electric shock at work has caused you to suffer stomach pain, then you may have a claim for Workers Compensation benefits against your employer. Depending on whether your state's Workers' Comp law has an "exclusive remedies" provision, this may be your only source of recovery against your employer.
However, if a third-party – who is neither your employer nor a co-worker – was negligent in causing your electrical injury, then you may be able to sue the negligent third-party or third-parties.
This third-party exception to the "exclusive remedies" rule in Workers' Comp law is very important, but many general practice personal injury lawyers don't know about it, causing them to erroneously tell electric shock injury victims that they have no case.
That's why it's important to seek a free consultation and talk with an experienced lawyer for injuries that occur at work but for which there may be an exception to the "exclusive remedies" rule.
How long does a settlement take for an injury like this?
A settlement for stomach pain after electric shock can generally be reached within 8 months to 1 year if no lawsuit is filed. However, if a case is filed in court, then a settlement could take 1 to 2 years or more, depending on where the injury occurred, the court that's involved and the judge hearing the case.
Other factors that could affect how long your settlement will take include: (1) the nature and extent of your injuries; (2) your medical needs and if you've reached maximum medical improvement or need future surgeries and significant medical care; (3) the extent to which your injuries prevent you from earning wages now and in the future; (4) your lawyer's experience, track record and reputation (attorneys with a demonstrated track record of settlement and trial success can settle cases for significantly more money and often much faster than lawyers without a proven track record, especially in electrocution and electric shock cases); (5) the specific utility company, insurance companies and defense lawyers that are involved; and (6) the extent of legal discovery including the number of witnesses, depositions, and experts who will need to be deposed.
Factors for stomach pain after an electric shock settlement
The amount of money you'll recover in a settlement for stomach pain after electric shock depends on: (1) your injuries; (2) your current and future medical needs; (3) whether you are disabled from working; (4) your pain and suffering; and (5) your lawyer's experience, track record and reputation.
This is where the experience, reputation and specialized knowledge of the electrocution attorney that you chose to represent you matters most.
Insurance companies and the power and utility companies keep tabs on the very small handful of attorneys who know how to successfully handle an electric shock or electrocution cases, and they are more willing to settle faster and for significantly more money when they come across a lawyer who has had proven success in this complicated area of law.
Do I need a specialized lawyer if I suffered stomach pain from an electrical accident?
If you have suffered a serious injury such as stomach pain after electric shock, you should hire a lawyer who specializes in electric shock cases. An experienced electrocution lawyer with a track record of success at trial can settle cases considerably faster and for more money.
Not so for a lawyer who has no experience in this area of the law. Electrocution and electric shock injury cases are complex and always aggressively contested by the utility companies. Inexperienced attorneys who are not familiar with electrical shock injury cases are often subject to aggressive "scorched Earth" defense tactics from the utility company and power company lawyers. The purpose is to cause these inexperienced lawyers to give up or to settle their case for substantially less than what the case is truly worth.
How much does an electric shock lawyer cost?
Hiring an experienced electrocution lawyer will cost you nothing unless and until we win your case and there is a successful recovery on your behalf, whether that be a settlement or trial verdict in your case. Most personal injury attorneys work on a contingency fee basis, which means our fee is contingent on winning your case. If we don't recover, you don't pay.
You do not have to pay anything up front and you will never pay anything out of pocket during your lawsuit, such as for litigation costs or costs in your case. These costs are only paid at the end, after a settlement recovery is made on your behalf.
Get help from an experienced electric shock injury lawyer
If you or someone you love is a victim of serious personal injury or death caused by electricity, you can call and speak with attorney Jeff Feldman, arguably the nation's most experienced electric shock accident and electrocution attorney. Jeff has litigated electrocution cases and electric shock injury cases throughout the United States for families whose loved ones were injured or killed after electrical accidents that were caused by faulty consumer products, negligence in the building and construction industry, downed or low-hanging overhead power cables, and defective or poorly maintained pool equipment. Jeff also consults with injury lawyers throughout the country on electrical accident injury and wrongful death cases involving electricity. You can call Jeff toll free at (800) 548-0043 for a free consultation.