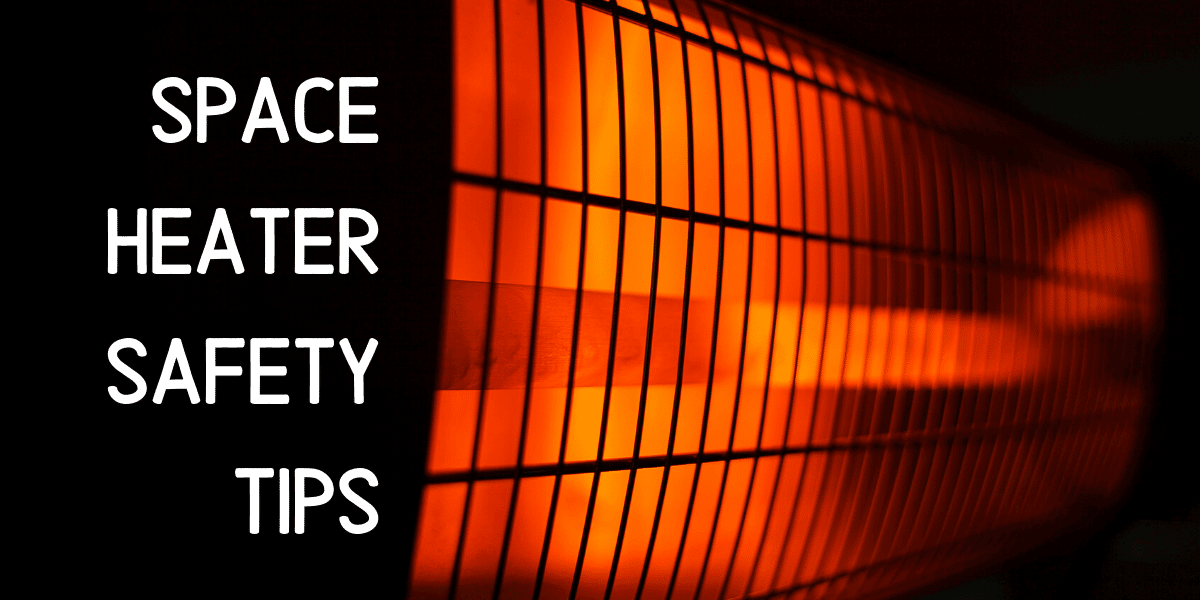 Now that winter is here and temperatures are really starting to drop, it is important that we take a moment to talk about my 18 top space heater safety tips to prevent fires, accidents and injuries.
Space heaters are a wonderful way to keep warm when we are at home or even at work.
But they don't come without their risks of causing or contributing to fire and electrical hazards.
Consider the statistics about the dangerous relationship between space heaters and home heating equipment-related fires:
Heating equipment is a leading cause of fires in U.S. homes, resulting in annual losses of 490 civilian deaths, 1,400 civilian injuries, and $1 billion in direct property damage.
Space heaters are the type of heating equipment most often involved in home heating fires.
Space heaters are involved in 44% of home heating equipment fires.
Home heating equipment fires involving space heaters account for 86% of associated civilian deaths, 78% of civilian injuries, and 54% of direct property damage.
(Source: National Fire Protection Association, "Home Fires Involving Heating Equipment," December 2018)
As you can see, space heater is safety is important and this is why I want to share my top space heater safety tips with you so you can protect your family, yourself and your home.
Below are my top 18 space heater safety tips that strike just the right balance between using space heaters to stay warm and using them safely.
Top Space Heater Safety Tips
One of the most important space heater safety tips is not to plug them into a power strip! Space heaters should be plugged directly into a wall outlet. (Do not plug any other electrical devices into the same outlet as the heater.) Because of the energy load and extra electrical current flow that a space heater generates, if it is plugged into a power strip, it could overheat and result in a fire.
Only use a space heater that has been tested, approved and certified by a nationally recognized testing laboratory.
Always read and follow the instructions and heed warning labels.
If a space heater's plugs or connections or power cord are frayed, worn, damaged or loose, do not use the space heater.
Don't leave the room while the space heater is on.
Don't leave the space heater on when you go to sleep.
Keep pets and children away from a space heater when it is plugged in and functioning.
Do not use space heaters for purposes other than providing supplemental heat (no cooking, drying clothing or thawing frozen pipes).
Make sure you have functional smoke alarms (that you test regularly) throughout your home and, especially, in bedrooms.
Position space heaters so that they are at least 3 feet away from anything that can burn such as paper, drapes and furniture.
Position space heaters away from high foot-traffic areas to reduce the chance of them being tripped over and/or otherwise being kicked over.
Position space heaters on the floor where the surface is flat and level.
Do not position space heaters on tables, chairs, furniture or counters where they will be unstable and/or could overheat and catch fire.
Do not put anything – such as a blanket – over the top of a space heater that is in use.
When a space heater is no longer needed or no longer in use, it must be unplugged.
Consider purchasing one with overheat protection, which means the space heater will automatically shut off if its internal components get too hot.
Consider purchasing a space heater with tip-over protection, which means the space heater will automatically shut off if it is tipped over.
Clean, inspect and maintain your space heater in good working order.
Hope these space heater safety tips help you stay safe while keeping you, your family and your home warm during the winter season.