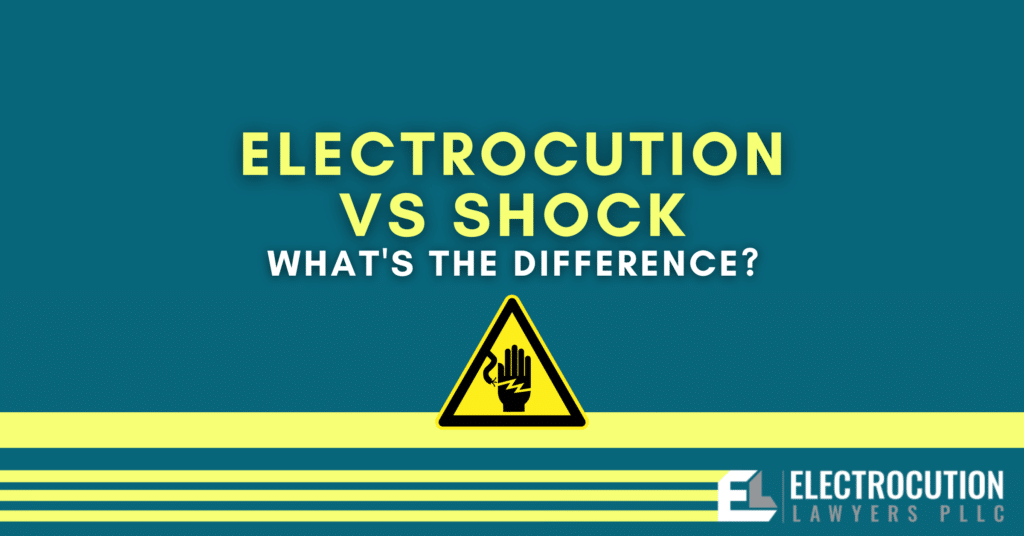 An experienced electrocution lawyer explains the difference between electrocution vs shock and the different medical and legal implications
Many people use electrocution vs electric shock interchangeably but the difference is when a person is shocked, a charge of electricity causes the person to suffer serious but non-fatal injuries; while an electrocution, on the other hand, is fatal and occurs when an electrical charge kills the victim.
While both accidents are very serious, they carry with them different legal and medical consequences. This is one of the many safety issues I try to educate the public about through my own outreach efforts and through my Electrocution Accident Lawyers website.
When comparing electrocution vs shock, electrocution means that a person has died as a result of coming in contact with electricity. Common causes of electrocution include:
Accidental contact with exposed electrical sources, such as exposed wires.
Accidental contact with a downed power line.
Contact with a power line or electrical arc flash.
In contrast to electrocution, an electric shock injury involves electrical harm that does not result in death.
That does not mean that an electrical shock case is a minor event. Victims of electrical shock frequently suffer very severe, catastrophic and life-altering injuries. Common injuries resulting from electrical shock include:
Amputation
Severe electrical burns
Cardiac arrest and/or arrhythmia and/or heart muscle damage
Brain and other nerve damage
Memory loss
Permanent heart damage
Hearing loss
Seizures
Respiratory failure
Spine injury
Deformity at point of contact
Cataracts
Loss of kidney function
Secondary injuries caused by post-shock falls
To learn more, please check out my Electrical Safety Resource Center.
How electrocution vs shock affects a victim's legal remedies
When comparing electrocution vs shock injury, both are tragic events. Significantly, people and families whose lives have been destroyed and/or permanently altered by an electrical accident can sue for damages and compensation when those damages were caused by the negligence of a utility, corporation, contractor, or person.
In the event that a life has been lost due to electrocution, then that person's family – through the personal representative of the decedent's probate estate – can pursue a wrongful death lawsuit.
For victims who have suffered serious, life-altering injuries, they can pursue a negligence lawsuit to recover damages for past, present, and future medical expenses, accommodations, loss of income, loss of consortium, disability, loss or impairment of social and recreational pleasures, fright, shock, mental anguish, disfigurement, as well as for pain and suffering compensation.
Get help from an experienced electrocution accident lawyer
If you or someone you love was injured or lost their life due to an electrical accident, you can call and speak with Jeff Feldman, arguably the nation's most experienced electric shock and electrocution accident attorney. Jeff has litigated electrocution cases and electric shock injury cases in multiple states for families whose loved ones were injured after electrical accidents that were caused by faulty consumer products, negligence in the building and construction industry, downed or low-hanging overhead power cables, and defective or poorly maintained pool equipment. Jeff also consults with injury lawyers throughout the country on electrical accident injury and wrongful death cases involving electricity. You can call Jeff toll free at (800) 548-0043 for a free consultation.