Get ready for the Rise of Electric Vehicles!  With over 1,000,000 EVs on the road today, and 62% growth expected this year in North America, it's clear we need to prepare for a world full of electric cars.  That's why we're dedicating this blog to identifying and raising awareness to some of the safety hazards that we need to solve as soon as possible.
Can I Get Electrocuted By Driving My Electric Car?
A study by the Insurance Institute for Highway Safety (IIHS) along with the Australasian New Car Assessment Program detailed many safety concerns with EVs, including the risk of:
electrocution,
fires,
explosion, and the
leakage of electrolyte chemicals from batteries.
In crash tests however, it was found that electric cars performed on par with their gasoline-powered counterparts.

Batteries Can Be Deadly
Many of these problems are associated with the necessarily powerful battery packs that are utilized in electric cars, which carry much more voltage than the 12-volt batteries used for gasoline engines. The voltage in electric vehicle batteries is direct current (DC) as opposed to alternating current (AC). DC voltage is potentially more dangerous than AC, with a shock as low as 55 volts possibly being fatal under some conditions, compared to the household standard of 110 volts for AC. For example, the battery pack used on the Toyota Prius generates more than 200 volts, and on some vehicles, such as the Ford Escape, this can range as high as 330 volts. This is more than enough to be fatal if a driver were to touch the bare battery cables while being grounded, or in a situation where there is a short-circuit in the system.
Charging Station Electrocution Dangers?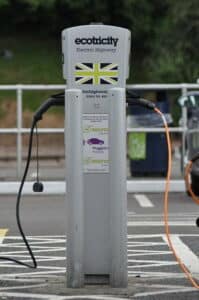 Another potential risk of electrocution posed to drivers comes from the charging stations set up for use on electric cars. These stations come in a variety of models ranging from 110 volts all the way up to 500 volts. These are equipped with ground fault circuit interrupter breakers for safety, which will cut off the flow of electricity in the event of a sudden surge. These are also commonly used in residential and commercial buildings.
However, the U.S. Consumer Product Safety Commission has found that these GFCIs are often non-operational on charging stations, creating a serious hazard. Accidents, copper theft, and vandalism can also damage these stations making them unsafe. It's expected that there will be over 1.5 million of these stations around the nation by sometime in 2017, and there are currently no requirements for safety inspections, or consequences for improper installation and maintenance leading to injury.
Although electric cars are generally safe if precautions and safety guidelines are followed, they do represent a definite hazard in certain situations.
First Responders And Rescue Personnel Risk Electrocution
There has been much concern for the risks to emergency personnel posed by electric vehicles. These first responders necessarily have to interact with electric cars involved in accidents where exposed cables pose a risk for electrocution, as well as ruptured battery packs creating the potential for explosion and fires, and chemical burns.
A report by the Society of Automotive Engineers highlighted the danger to responders and tow truck operators in 2012, citing the need to cut off battery power immediately after an accident. The report recommended that manufacturers install battery kill switches in easily accessible locations on the vehicles, and that guidelines should be posted on the cars for emergency workers to follow. "As electric vehicles enter the marketplace in greater numbers, it's an appropriate time to recognize best practices that facilitate a safe response when these vehicles are in an accident." said Todd Mackintosh, the chairman of the committee.
Government And Manufacturers Respond To Electrocution Dangers
The National Highway Traffic Safety Administration also expressed concern, and issued its own guidelines for consumers and workers who might be exposed to hazardous situations.
Manufacturers have responded by locating battery packs in locations where they are less likely to be damaged or exposed in an accident, and sometimes encasing them in metal boxes. One manufacturer has designed a battery pack that will automatically disable its current in the event of a crash.
First Responder's Fears Hinder Rescue Attempts
However, emergency personnel are still leery of accidents involving electric and hybrid vehicles, as illustrated by a fatal accident that occurred recently near the Dutch city of Amsterdam. A man driving a Tesla about 25 miles outside of the city struck a tree, and the removal of the driver from the wreckage was delayed several hours due to firefighter's concerns that they might be electrocuted.
A spokesman for the fire department stated that even though safety guidelines for electric vehicle accidents were widely disseminated among emergency workers in the Netherlands, the nature of the crash created uncertainty. "We know a lot about electric cars, but there are always going to be cases where something unexpected happens. There are going to be educational moments," he said. He also stated that the firefighters were certain that the driver had died instantly in the crash. Technicians from Tesla were eventually flown in, and they declared the situation safe.
Technology Not An Immediate Fix
Although consumers and emergency worker are slowly being educated on the dangers posed by electric cars, and more resources are being made available to them, the potential for electrocution and other hazards will remain until technology can develop batteries that are less volatile and cars that use much less voltage for the same performance, though that could be years or even decades away.
Electrocution A Serious Concern For Consumers
As stated above, electric vehicles are generally safe for their owners and everyone else that has to come into contact with them, however serious risks are present and they shouldn't be ignored. If a driver is careless around the electrical cables inside the car, or if they encounter faulty and malfunctioning equipment, they could be electrocuted.
Common sense and awareness of safety guidelines are two of the most important safety measures, and both will go a long way towards preventing accidents resulting in injury or death. Manufacturers will continue to develop safer cars and governments will develop regulations and laws that will make driving electric cars safer if they want consumers to continue to embrace them.
Electric cars are here for good, and everyone will eventually realize great benefits from them. But in the meantime, they have to learn to be safe.
Need Help? Just Ask
If you or someone you know has been injured in an accident involving an electric car, call one of our attorneys toll-free at 800-548-0043 for a free and confidential consultation.
Photos via Pixabay