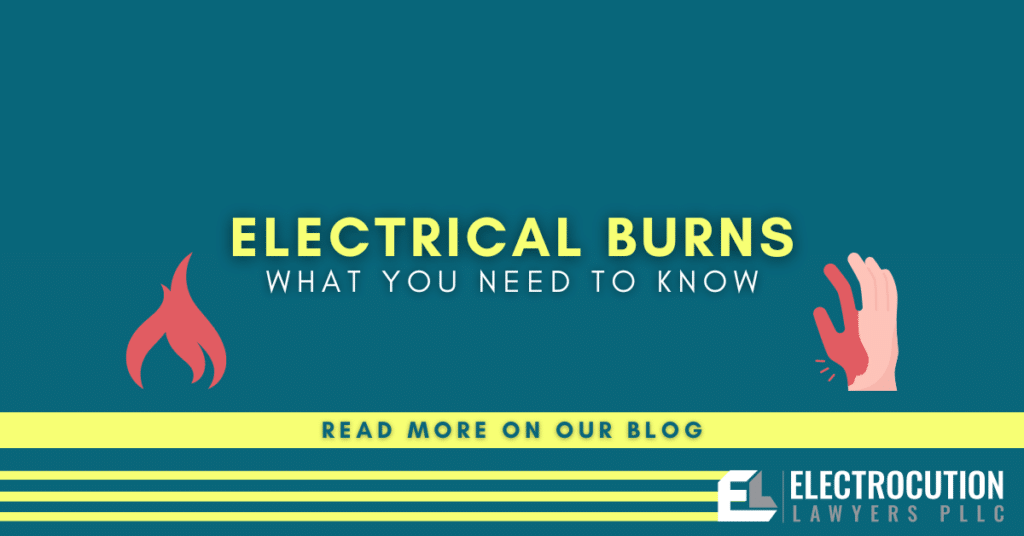 Electrical burns are serious injuries for electric shock victims. Not only do they damage the outer layers of a person's skin, but they can cause irreparable damage to muscles, veins and nerves. These injuries are frequently caused by contact with downed or damaged power lines.
If you or a loved one has been injured in an accident with electricity, call now for a free, no-cost, no-obligation consultation with one of our experienced electrocution and electric shock injury attorneys to find out what your legal rights and options are and what your case may be worth.
What is an electrical burn?
An electrical burn occurs when a person is injured by a skin burn that is caused by a current of electricity as it enters or exits his or her body as a result of an shock or other contact with a source of electricity. This type of burn may be suffered at both the entry and exit point of the electricity.
Can I file a lawsuit if I suffered this injury?
If you have suffered this type of injury at work as a result of negligence by someone else – such as a utility company or a business – you may be able to file a lawsuit to recover pain and suffering compensation as well as money damages for your medical bills and lost wages if you couldn't work because of your injuries.
Causes of electrical burns
Causes of electrical burns include exposure to: (1) downed power lines; (2) damaged power lines; (3) low-visibility power lines near homes or business where maintenance or repairs are being done; (4) home appliances that are connected to an electricity source; and (5) faulty or defective wiring.
Can I file a lawsuit if I suffered this type of injury at work?
In many states Workers' Comp law will not allow you to sue your employer for your pain and suffering as a result of the electrical injuries you suffered at work. If your employer or a co-worker was at-fault, you'll be limited to filing a Workers' Comp claim to cover your medical bills and lost wages.
However, if the negligent party who caused your electrical injuries at work was a third-party – i.e., someone other than your boss or a co-worker – then you may be able to sue that negligent party (or parties) for pain and suffering compensation. Often an experienced lawyer can find a third-party who was responsible and it provides a valuable way to help people who would otherwise be barred under Workers' Comp.
Tragically, many workers who suffer these type of injuries from electricity at work never get the pain and suffering compensation they are legally entitled to because too many general practice and personal injury lawyers do not know about the important exceptions that still allow people to sue when they are on the job, and many lawyers end up erroneously telling electric shock victims that they have no case when in reality they do.
Types of electrical burns
There are three types of electrical burns: (1) a first degree burn damages the outer layer of skin known as the epidermis; (2) a second degree burn (i.e. partial thickness) damages the epidermis and the next layer of skin (called the dermis); and (3) a third degree burn damages muscles, veins and nerves.
Do I need a lawyer to help me with my case?
If these burn injuries are serious, you will need an experienced electrocution lawyer. Most of these injuries are serious involving significant medical bills, lost time from work, and involve significant compensation for pain and suffering and emotional damages.
An electrocution lawyer who specializes in cases involving electrical accidents will know how to handle these complex cases. They will know how to identify all of the negligent parties that most personal injury lawyers who do not routinely handle electrical injuries will miss. Your experienced electric shock lawyer can also uncover all of the layers of insurance coverage that may be available to you through responsible third-parties who contributed to your injuries so you can receive the fullest and fairest settlement.
First aid for electric burns
First aid for electric burns should include: (1) turn off the source of electricity; (2) call 9-1-1, the utility company, and emergency services; (3) start CPR if the victim is not breathing or does not have a pulse; (4) cover the burned area with a sterile gauze bandage or clean cloth; and (5) keep the victim warm.
How much does an experienced electrocution lawyer cost?
An experiencde electrocution lawyer will cost you nothing unless and until we recover a winning settlement or trial verdict in your case. Our law firm charges what is called a "contingency fee." That is great for the people we help because our entire attorney fee is contingent on us first winning your case and recovering compensation for you. If we don't win, you don't pay. Period.
You will also never pay us anything out of pocket for the costs and expenses of litigation. There are no up-front costs or charges. We are reimbursed costs only after your case is over and a recovery is made.
How to treat electrical burns
Your treatment for electrical burns may include: (1) skin debridement; (2) skin graft surgery; (3) plastic surgery; (4) physical therapy; (5) occupational therapy; and (6) pain and anxiety medication. Depending on the severity of your injuries, your doctor may also refer you to a specialized burn center.
Don't let this happen to you. Talk with an experienced electrocution attorney if you suffered serious injuries from an electricity accident at work.
Get help from an experienced electric shock injury lawyer
If you or someone you love is a victim of serious personal injury or death caused by electricity, you can call and speak with Jeff Feldman, arguably the nation's most experienced electric shock accident and electrocution attorney. Jeff has litigated electrocution cases and electric shock injury cases in multiple states for families whose loved ones were injured after electrical accidents that were caused by faulty consumer products, negligence in the building and construction industry, downed or low-hanging overhead power cables, and defective or poorly maintained pool equipment. Jeff also consults with injury lawyers throughout the country on electrical accident injury and wrongful death cases involving electricity. You can call Jeff toll free at (800) 548-0043 for a free consultation.